TRIUMF is Canada's particle accelerator centre
From the hunt for the smallest particles in the universe to the development of new technologies including next generation batteries and medical isotopes, TRIUMF is pushing the frontiers in research to advance science, medicine, and business.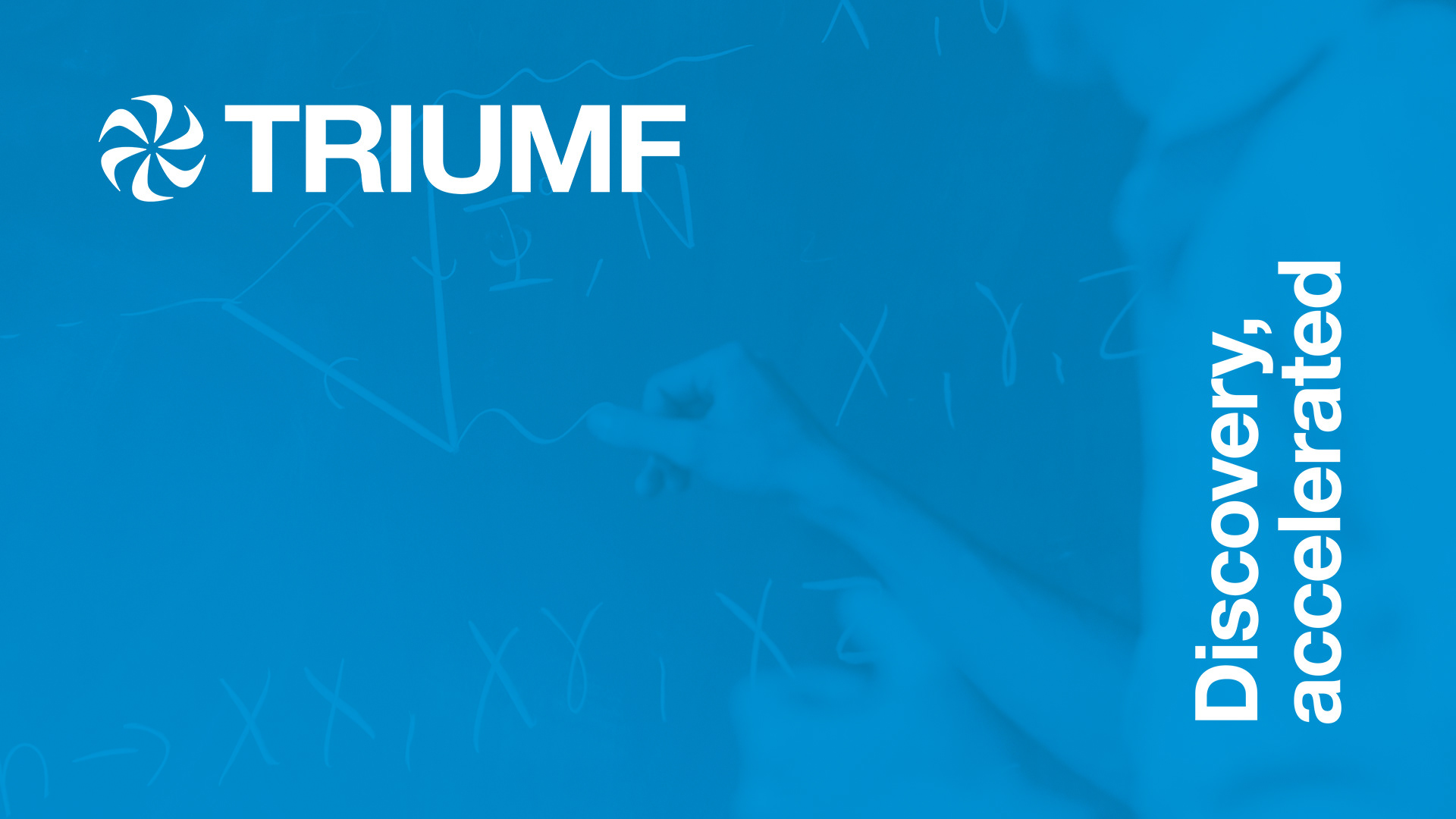 An incredible feat of engineering, TRIUMF is the proud home of the world's largest cyclotron. The imagery of the cyclotron reflected in the logo has constituted a substantial part of TRIUMF's visual identity since it was first used during the lab's founding in the mid-1960's. 
We sought input from members of our community and took their comments to heart. With that, our explorations led us towards a modest refresh and the end result:  
A simple, dynamic, and memorable symbol that honours our mighty cyclotron as an icon, yet is more idiographic to better convey how TRIUMF has enriched its capabilities and evolved to be more multifaceted over its fifty year journey.
(TRIUMF's logo was crafted by BURNKIT)
As we contemplated our logo, it was only fitting to simultaneously consider its linguistic counterpart: our tagline. Our new tagline embodies our dynamic spirit and captures our core essence.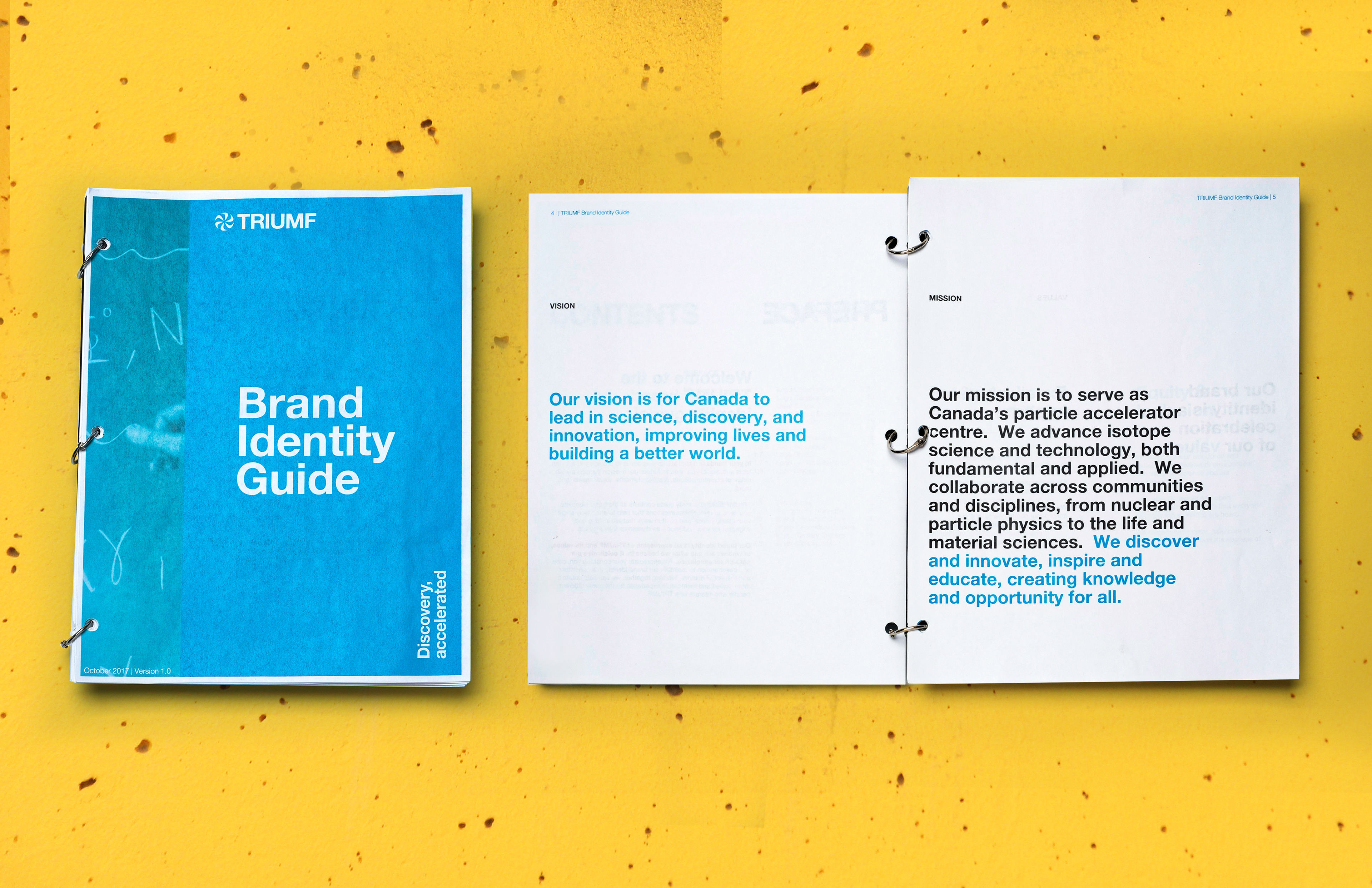 The TRIUMF community consists of over 500 scientists, engineers, technicians, tradespeople, administrative staff, postdoctoral fellows, and students, plus hundreds of users who flock to the lab each year from around the world. To support TRIUMF's many diverse constituents and help them more effectively share their ideas, stories, and spirit in inviting and engaging ways with their various audiences, the organization's Strategic Communications Team developed a special tool kit: the TRIUMF Brand Identity Guide. The purpose of the guide is to equip TRIUMF community members with the basic elements and assets to further our Vision and Mission through a wide range of communications, graphic elements, visual assets, and more.
The format of the booklet needed to be accessible, approachable, simple to update, and easy to print and distribute both physically and digitally.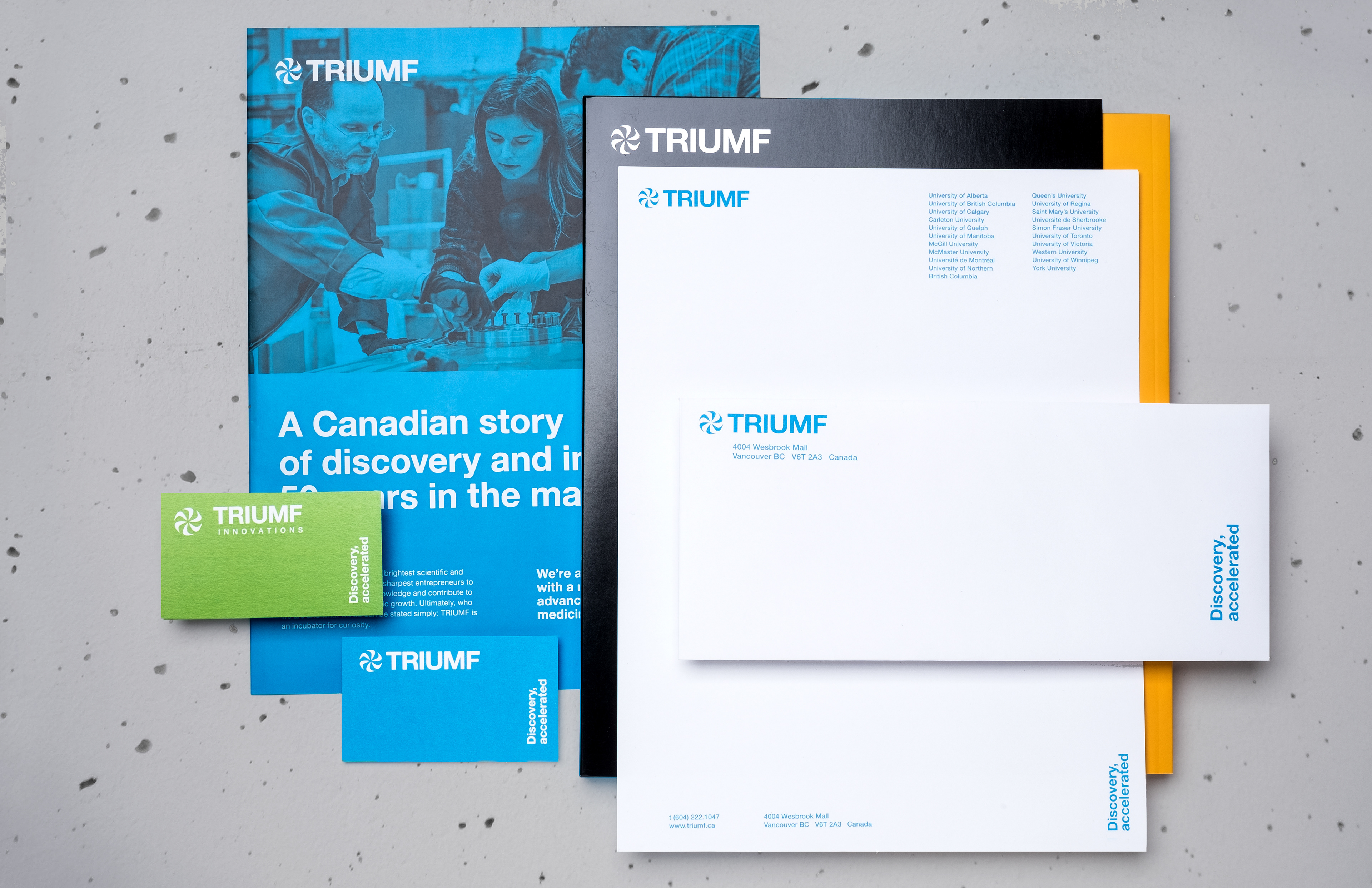 Our stationery system
TRIUMF's business cards exemplify our Brand Identity Guide

.

 
TRIUMF business cards are simple, but they subtly embody many of our brand identity elements: agile use of typography weights, our Helvetica Neue typeface, and precise grids and columns. The cards are also accentuated by a marked contrast between the seamless structure on the card's front and contemporary boldness on the back. They serve as a comprehensive, hallmark brand piece, and establish a thematic style employed in the rest of our stationery pieces.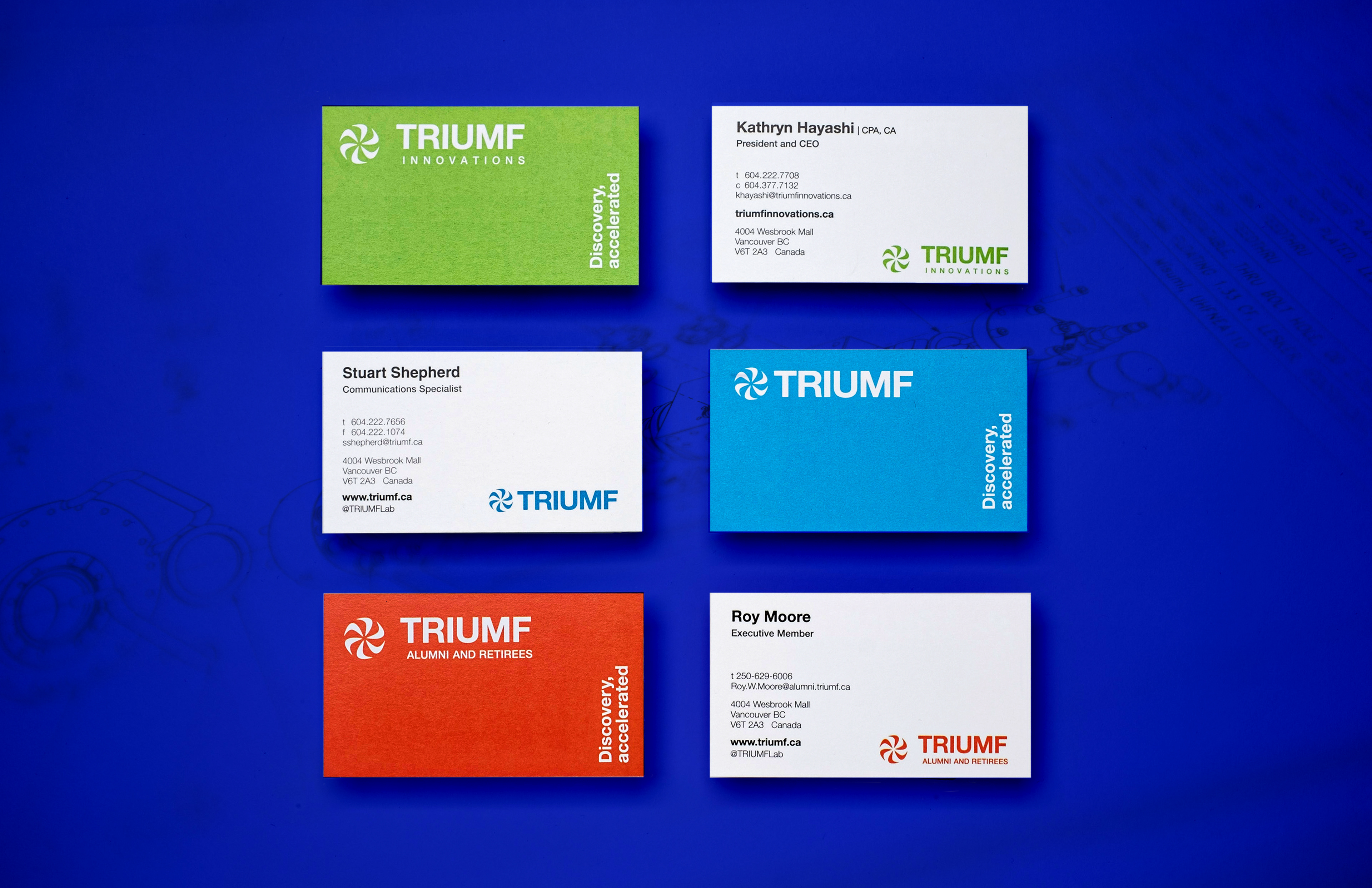 TRIUMF's sub-organizations each needed a visual identity that could be incorporated as part of the same branding system but provided enough demarcation and brand autonomy to inspire engagement and buy-in.  
This was solved by developing differentiated sub-brand missions for each organization and using different colours to communicate these discrete brand personalities. TRIUMF remains ratified as the 'parent' brand by the use of a scalable system of two-storey logos wherein the wordmark 'TRIUMF' is always featured.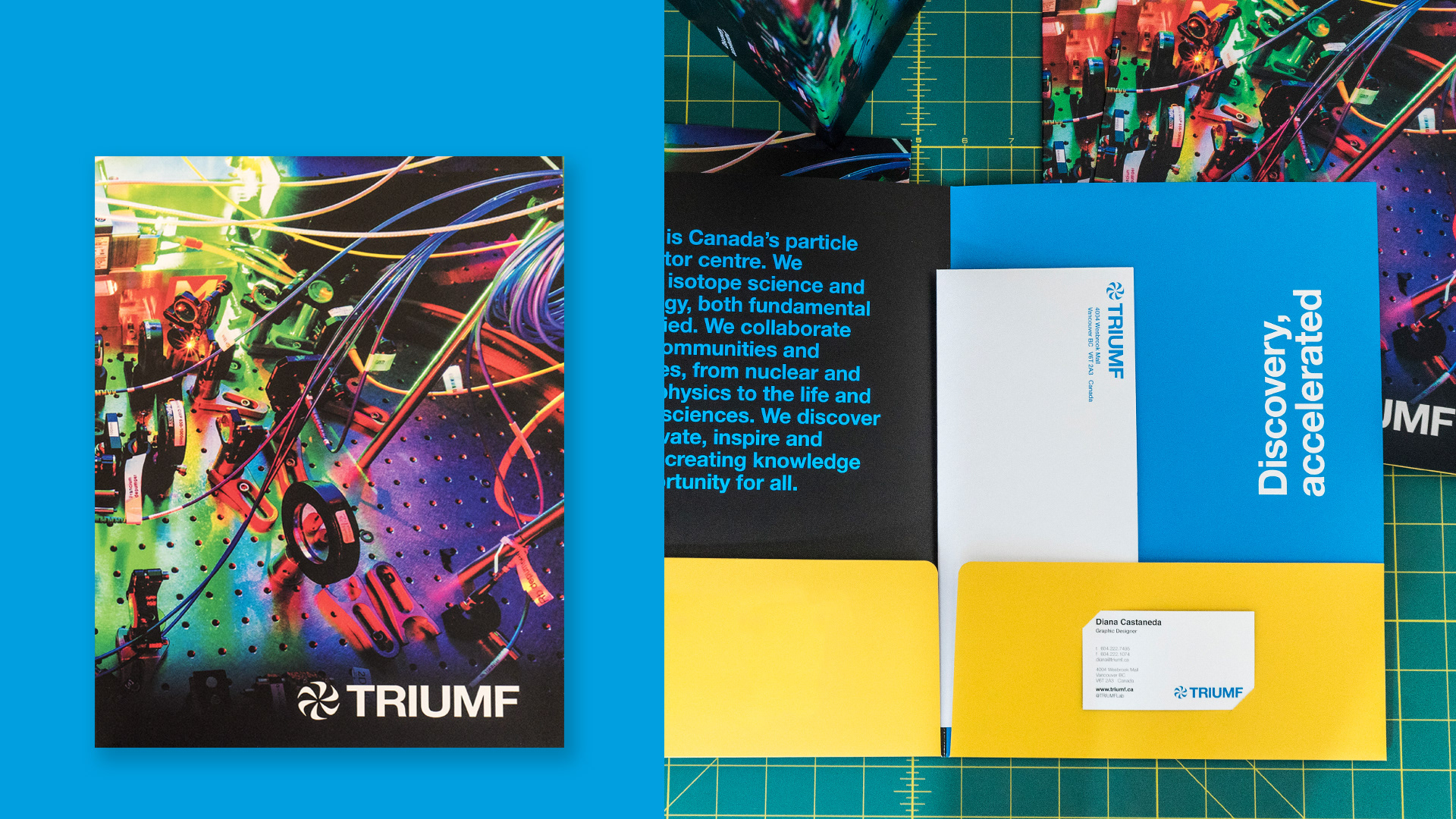 Here we took the opportunity to feature photographic works done inside TRIUMF experimental facilities. The image used for the folder shows a long exposure photography, taken by Michael Kossin - a TRIUMF grad student working at the Francium Trapping Facility - using the natural light of the room. 
The inside of the folder features TRIUMF's Mission presented in the brand graphic elements.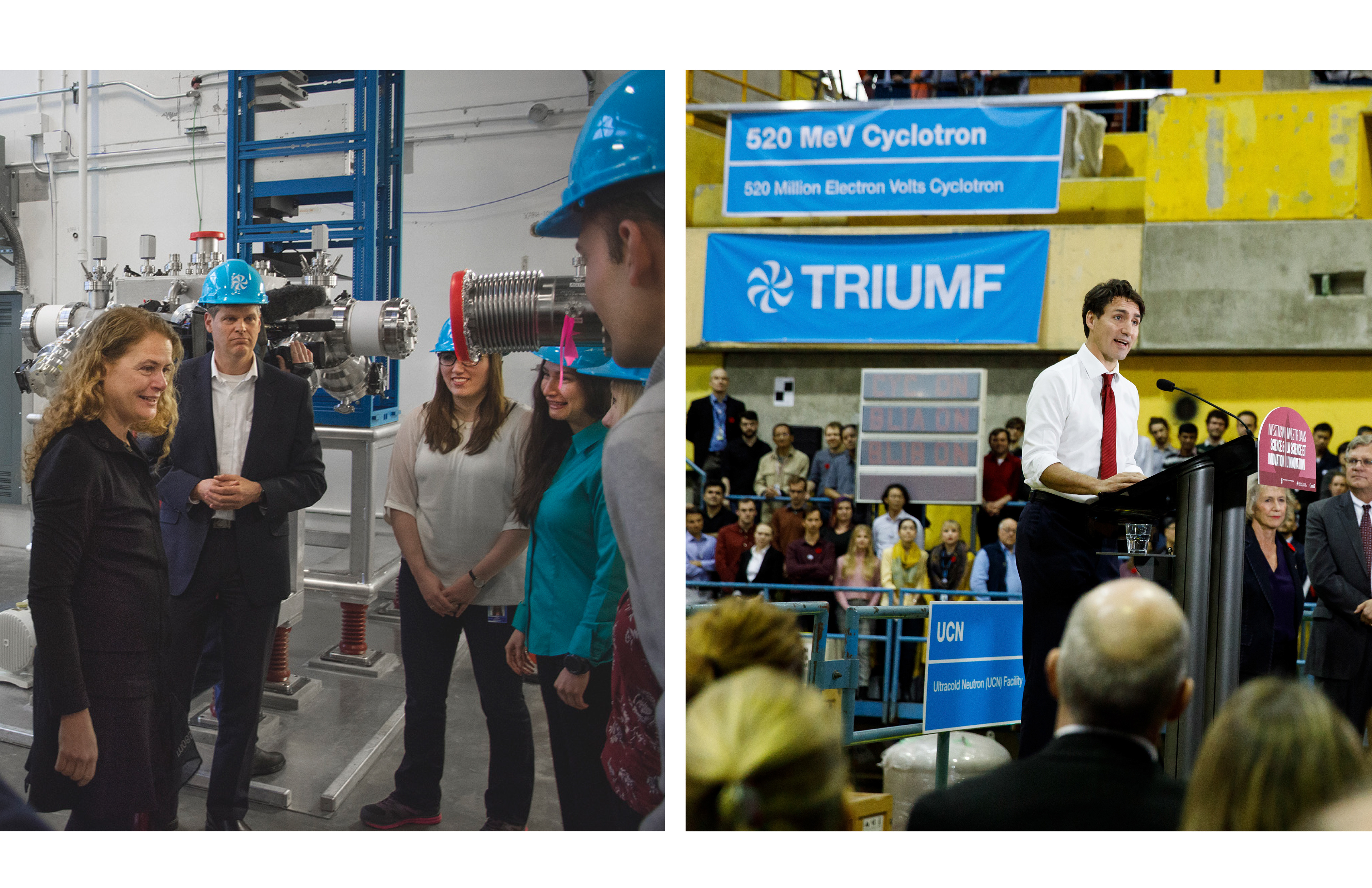 Increased interest measurable in number of visitors for the public tour. VIP visitors during 2018 included The Right Honourable Justin Trudeau, Prime Minister of Canada, and Her Excellency the Right Honourable Julie Payette, Governor General of Canada and former astronaut. In addition, a number of important academic and private sector partners also visited the lab during this period.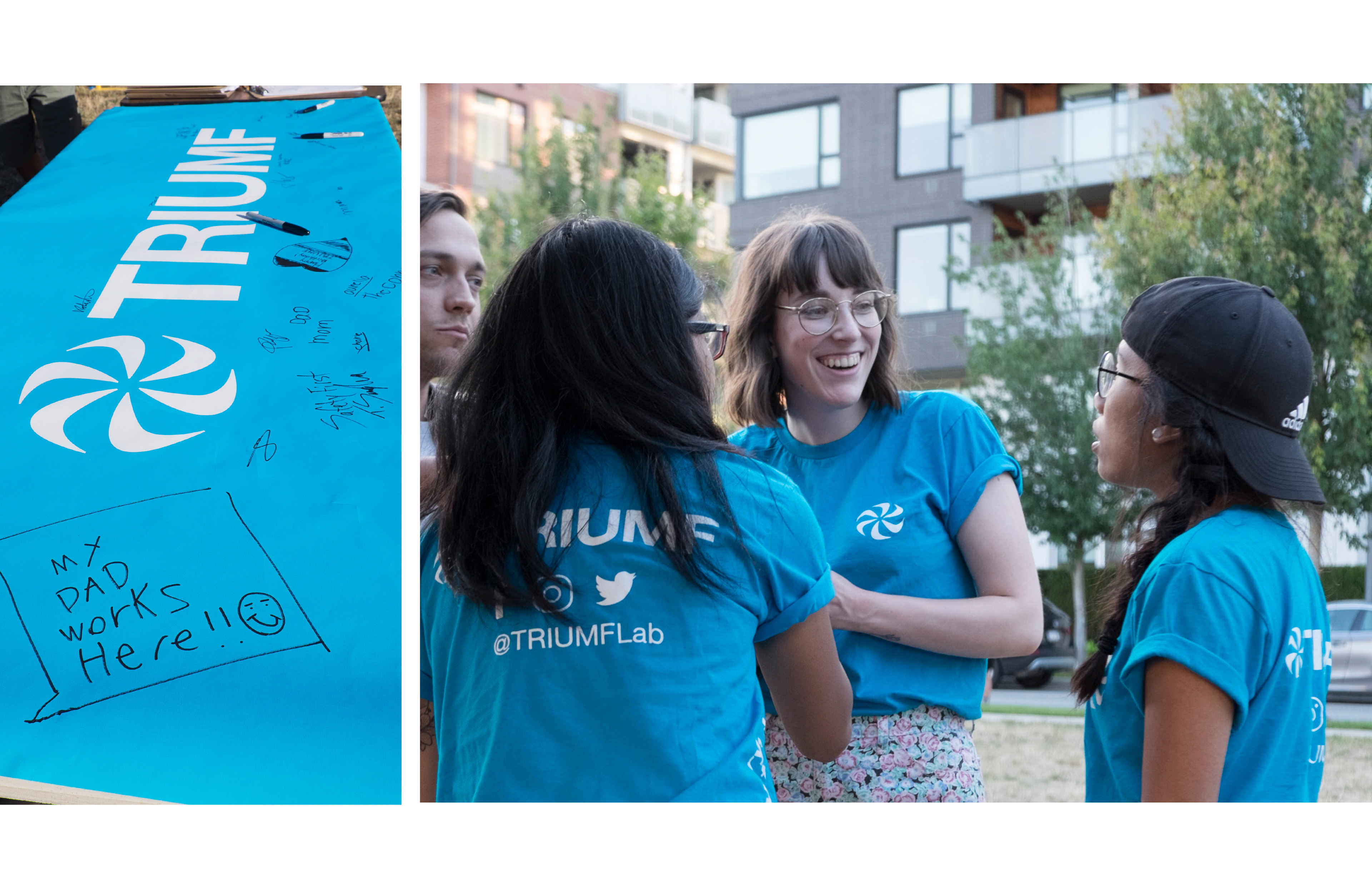 Our brand identity is an expression of TRIUMF and its Values, of who we are and what we believe in. 
Copywriting: Lisa Lambert, Stuart Shepherd 
Art Direction: Diana Castaneda 
Graphic Design: Diana Castaneda  
Production: Diana Castaneda 
Logo Design: BURNKIT