The TRIUMF Five-Year Plan is the blueprint 
that defines TRIUMF's vision and mission, communicates the lab's goals and strategies, and lays out an action plan for the specified planning cycle and beyond. The content and layout aimed to inspire confidence, pride, and trust in Canadian scientific excellence. 
This document played a critical role in securing a historic level of funding from the Government of Canada in Federal Budget 2019, and 

received a graphic design award from RGD (The Association of Graphic Designers of Canada).



The laboratory launched a pair of Five-Year Plan documents, each of which incorporated extensive community consultation and input. 
This package, comprised of a Strategic Plan and an Implementation Plan, was presented to the Canadian federal government as part of TRIUMF's pitch for 2020-2025 funding.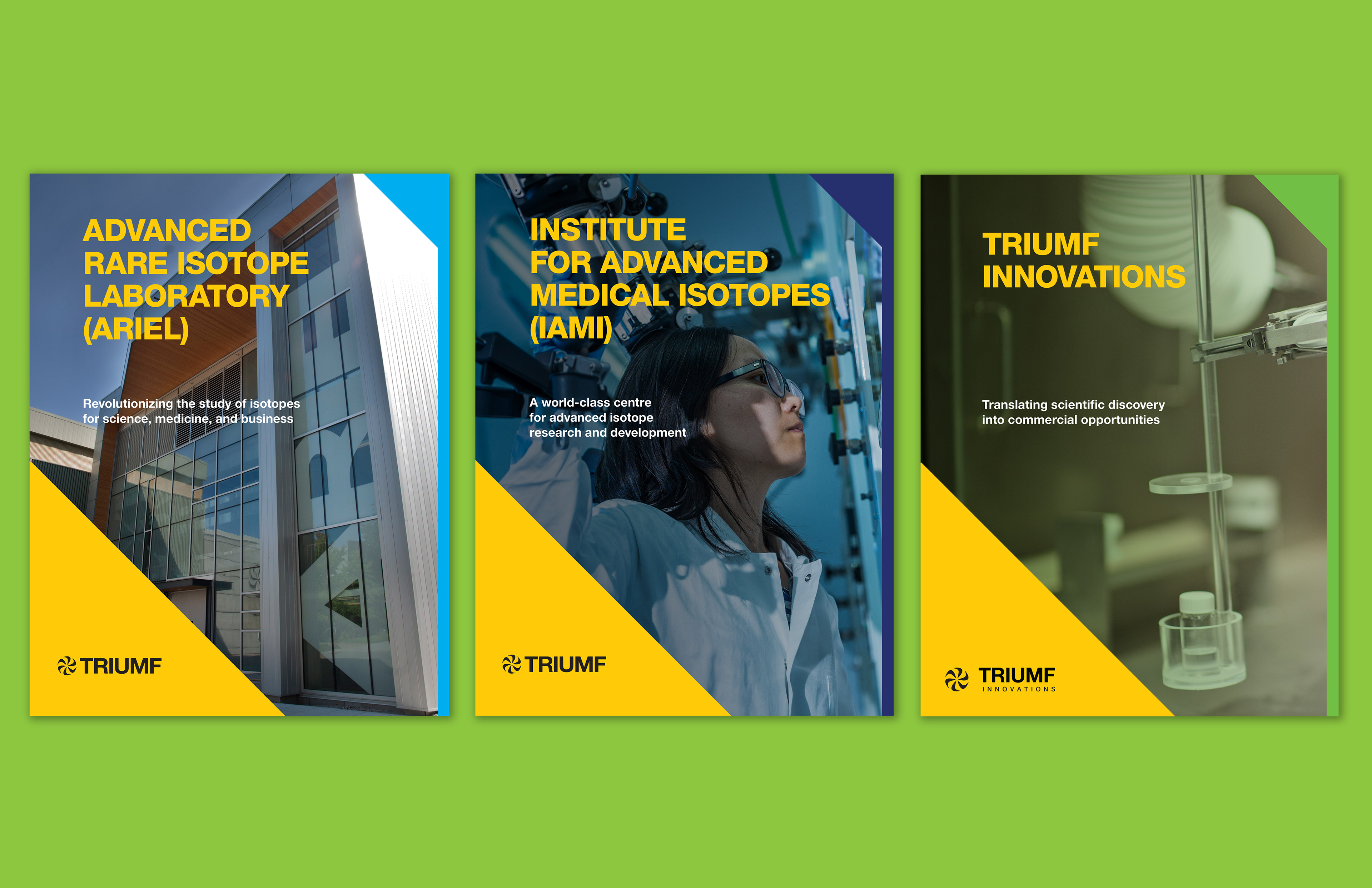 The portfolio included: 2 booklets, 4 handouts, and a set of postcards. All assets, in both English and French, were presented in custom designed portfolio boxes.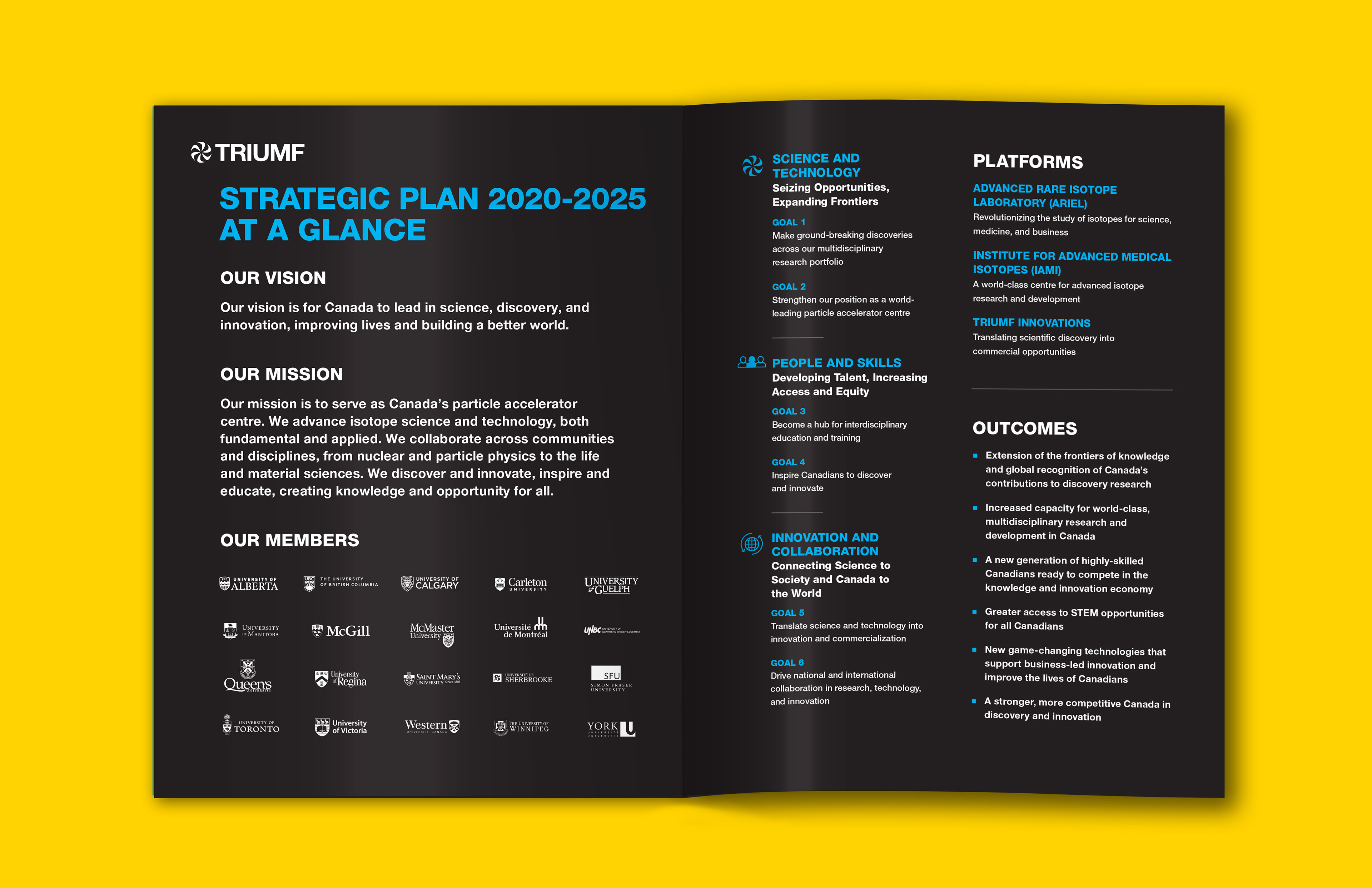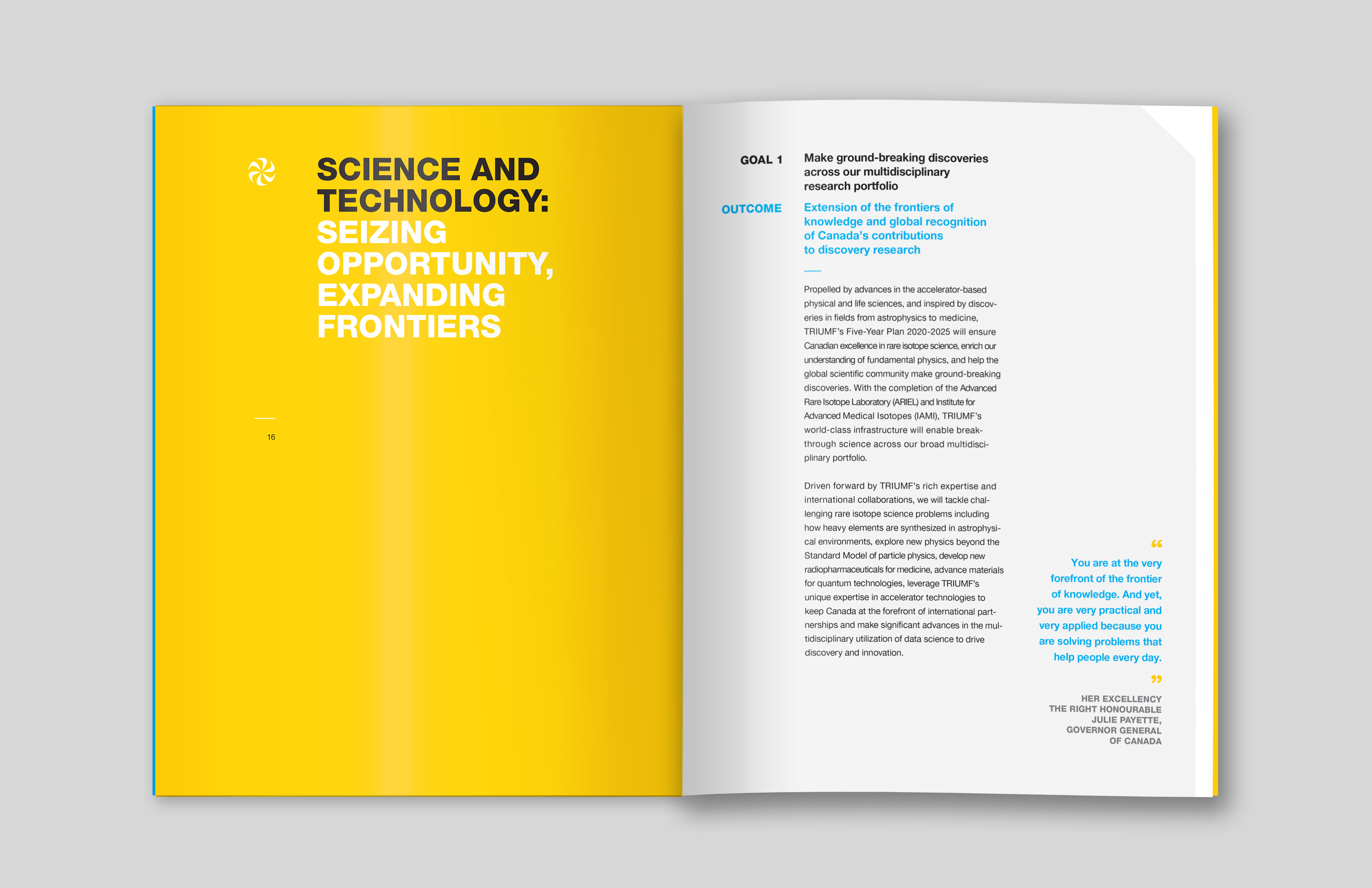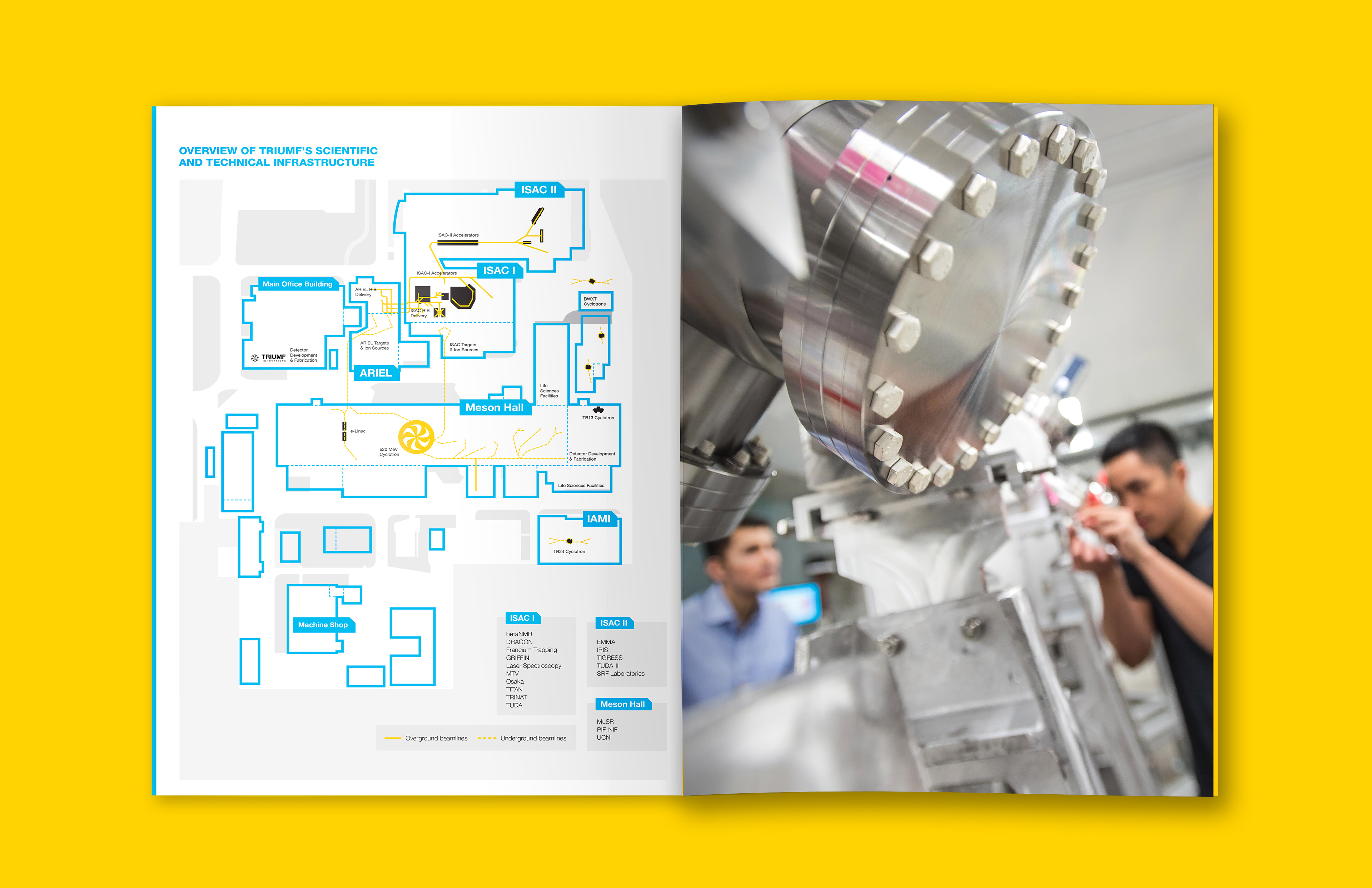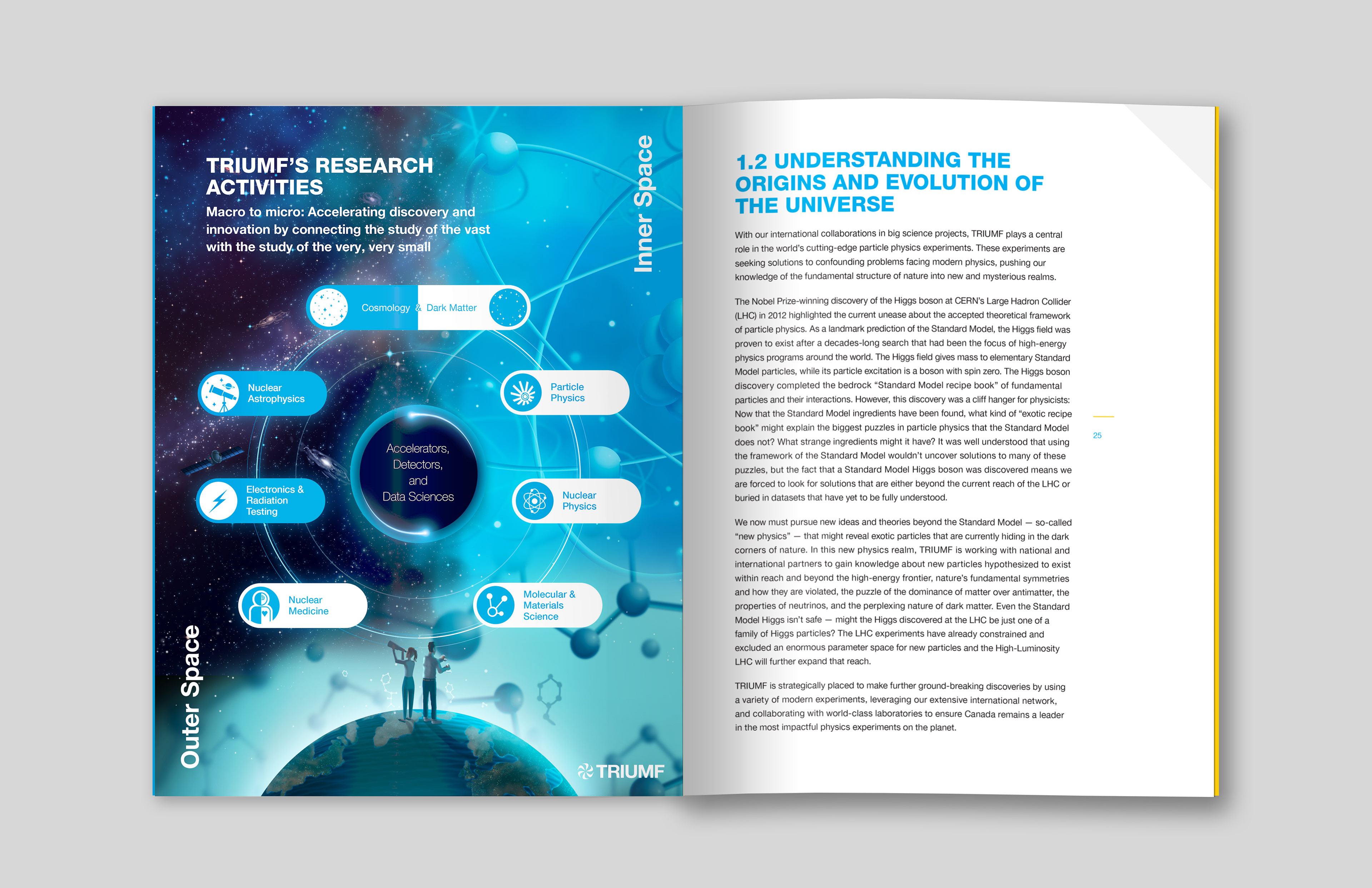 TRIUMF's Five-Year Plan is also online. This website was outsourced to Briteweb.
Editor-in-chief: Reiner Kruecken 
Creative Director and Managing Editor: Lisa Lambert 
TRIUMF Production Project Team: Diana Castaneda (Art Direction), Reiner Kruecken (Strategy and Content), Lisa Lambert (Strategy and Project Management), Stu Shepherd (Content), Sean Lee (Strategy and Content) 
Tools, Teams & Track Records Lead Writer: Jacob Berkowitz 
Tools, Teams & Track Records Project Manager and Assistant Editor: Stu Shepherd 
Strategic Plan Lead Writer: Clare Walker 
Implementation Plan Lead Writer: Ian O'Neill 
Copy Editor: Melva McLean 
Translation: Benoît Thouin, Tetracomm Inc. 
Contributing Designers: Aaron Campbell, Diana Castaneda, Ben Groulx, Maria De La Guardia, Miguel Molina, and Shirley Wu 
Contributing Photographers: Sean Birch, Kirk Chantraine, Trisha Dickins, Rick Etkin, Paul Joseph, Billy Kwok, Roy Langstaff, Soleil Lapierre, Matthias Le Dall, Justin Lee, Michael Levy, Jon McRae, Cam Pearson, S. Rushton, Stu Shepherd, and more! 
With Assistance and Operational Support From: Jesse Abney, Ashwini Canagaratnam, Kai-Mei Chu, Alanna Cunningham Rogers, Steffani Grondin, Erin Madill, Carla Rodrigo, Daniel Thomson, Betty Tran, Nicolas Zdunich, and the TRIUMF community 
Printing: Colour Time Printing + Digital Imaging 
Special thanks to contributors from the TRIUMF community, the TRIUMF User Group (TUG), and our broader user community